The new way to
know

the world
Traveling has a new mood. Join our digital experience and live tourism in a different way with Travel Gow ®.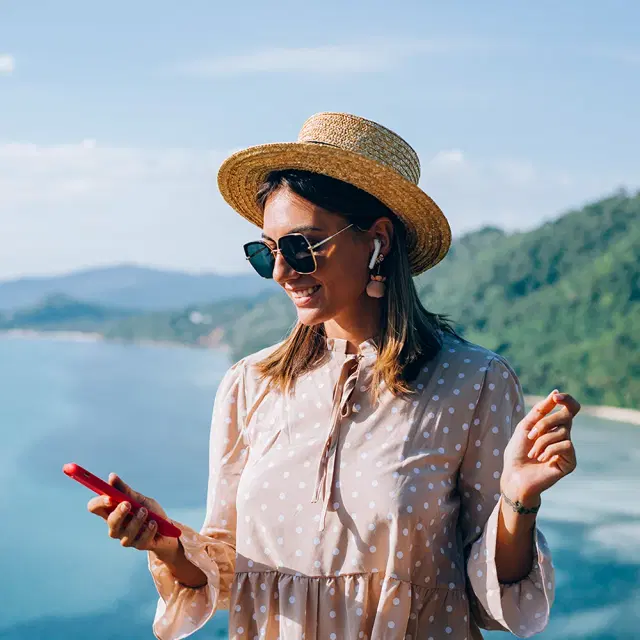 A unique tourist audioguides app.
We connect travelers to thousands of tours in different parts of the world, designed by real guides and digitally.

Map Location
Audioguides linked to maps with real-time location. While the content is playing, users will be able to follow the route marked on the map.

Tours
The audioguides can be classified according to the type of tour that the user decides to take: Walked, by Bicycle or by Car.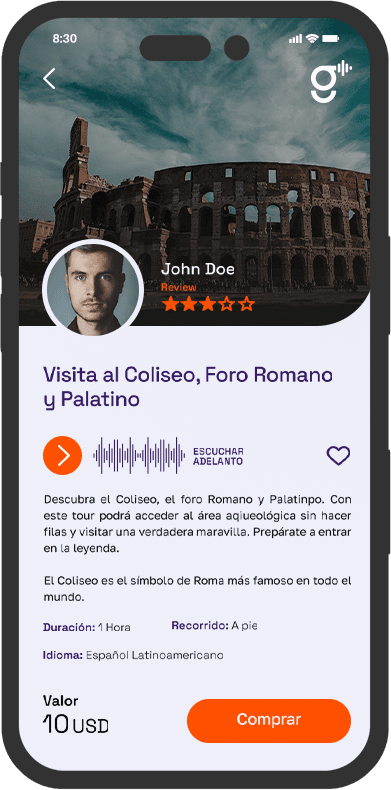 Particular styles
Thousands of guides, thousands of styles. Discover guides oriented to different interests: art, cinema, architecture, shopping tour, etc.

Real valuations
Once a tour is completed, users will be able to rate and leave comments to the guides.
FOR GUIDES THAT INNOVATE
Benefits of
being a Gower

Get clients anywhere in the world!

Sell your knowledge without borders.

Create content for different cities.
Protected content

With GOW we provide you with security and confidentiality for your content.

Different ways of guides

We have different ways of selling your knowledge in tourism. Choose the option that best suits you.

Public without borders

The world without limits. With GOW you can sell your knowledge from anywhere in the globe.

Passive and constant income

You create the content, you upload it to our platform and you start receiving profits.
It's time to join the era of digital tourism.
Don't stay out. We invite you to contact us to learn much more about us and Travel GOW.
I want to be part of GOW
Frequently Asked Questions
Can't find the answer you're looking for? Don't worry, you can contact our support team.
How does GOW works?
Travel GOW is a tourist audioguides app that connects the tourist with the best digital tours in the world created by real guides. Our goal is that anyone can know the world in detail with our great community. Our app allows you to connect with thousands of Gowers around the world to live unique experiences. Get to know the cities in your time, in your language and with your tastes.
How to use Travel gow?
You enter the store on your phone and look for 'TRAVEL GOW' for Android or ios (you will see our orange logo), once downloaded on our phone you just have to place your name and your email and you will be able to start exploring. If you already know which destination you want to visit, simply place the name of the destination and you will see a drop-down list of all the available guides, you can choose the one that best suits your tastes and your time. You can also see the profile of each guide and their scores. By using our filters you will take your experience to the next level by being able to see specific tours in your languages, and in turn the tours that suit your needs both in how to travel the route and your interests.
How much do our tours cost?
Each guide will value the experience that he is providing you and likewise thanks to the great variety of guides that you will find in our app you can choose the one that best suits your pocket.
How long do I have the guide available to listen to it after I have purchased it?
The guide will remain available on your phone as long as you do not delete the app
Can I listen to the guide offline?
Of course, you need internet to buy and download it but then you can listen to it without problem
Can I rate the tours?
Once your experience is over, you will have the possibility to leave your comments and rating of the tour just finished.
I want to be GOWER
Do you want to join our community of guides? Of course! Register by accessing Guides Admin Page